ICOM IC-7300 Honest Review
As an Amazon Influencer, we earn from qualifying purchases you might make if you click any of the links on this page.
The ICOM IC-7300 has rapidly become a go-to choice for ham radio enthusiasts, thanks to its plethora of advanced features, top-notch performance, and exceptional build quality.
In this comprehensive review, we'll delve into the specifics of the IC-7300, comparing it to similar radios and discussing the pros and cons. Read on to find out if this high-end ham radio is the perfect fit for your needs.
RF Direct Sampling System: Revolutionizing Ham Radio Performance
The IC-7300's RF Direct Sampling System is a groundbreaking feature that sets it apart from the competition. This technology delivers crystal-clear audio with minimal noise by digitizing RF signals and routing them through the FPGA. The result is a significant reduction in noise levels and a simplified circuitry that enhances overall performance. Competing radios struggle to match this level of audio clarity.
User Interface: Intuitive Touch-Screen Operation
The IC-7300 boasts a 4.3-inch LCD waterfall touch screen, making device operation a breeze. The interface is user-friendly and it's easy and fast to navigate, allowing you to make changes on the fly without any hassle. This touch screen offers a significant advantage over competing radios like the Kenwood TS-590sg, which lacks such a convenient feature.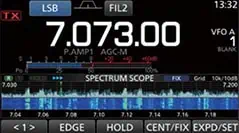 Built for Top-Notch Performance: An Impressive Feature Set
The IC-7300 is packed with an array of features designed to optimize its performance, including:
Internal auto-tuner and Continuous Wave (CW) function: These features work in tandem to cancel out unwanted noise, ensuring a cleaner audio experience.
Single Side Band (SSB) support: The radio leverages its internal amplifier to improve sound quality and volume, making it perfect for demanding operators.
IP+ feature: This functionality enables the base station to receive weaker signals that are usually masked or overridden by stronger signals, eliminating signal interference and enabling you to hear even the weakest signals with clarity.
Radio-teletype (RTTY): This feature allows you to wirelessly connect the IC-7300 to multiple teleprinters, further expanding its capabilities.
15 band-pass filters: These filters work together to deliver unmatched performance, ensuring that the IC-7300 outshines its competitors.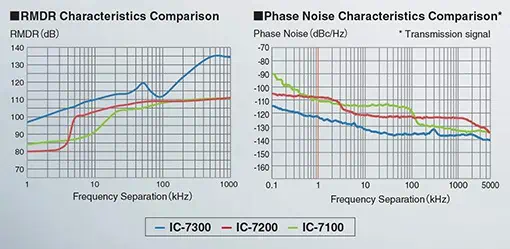 Customizable Receive Audio: Fine-Tuning for Optimal Results
Although some users have reported poor receive audio with the IC-7300, this issue can be resolved by adjusting the settings. By experimenting with different configurations, the audio quality can come close to rivaling that of the Kenwood TS-590sg, making it more than acceptable for the majority of users.
Digital Modes: A Versatile Radio for Varied Interests
The IC-7300 is not only an excellent choice for phone and CW operation but also excels in digital modes. Its straightforward physical setup for digital modes, requiring just a single USB cable, makes it an attractive option for operators interested in exploring digital communication.
Comparing the IC-7300 to Other Radios
In terms of performance and value, the IC-7300 stands out among its competitors. With a lower price point than Yaesu's highly-rated FTdx-10, the IC-7300 offers an exceptional bargain for operators seeking a top-of-the-line radio. Moreover, users report that the IC-7300's receive and transmit capabilities surpass those of other radios, such as the Tentec Triton IV and Eagle.
Pros and Cons of the ICOM IC-7300
Pros:
Compact design for increased portability
Solid build quality ensures longevity
Touch-screen for ease of operation
Intuitive interface for fast and easy navigation
Fast spectrum scope for easily finding weak signals
Improved sound quality with customization options
Feature-packed for versatile operation
Cons:
Expensive compared to entry-level models
Steep learning curve due to the many features
Receive audio may require adjustments for optimal quality
Automatic tuner limited to 3:1 SWR
Who Should Buy the ICOM IC-7300?
The ICOM IC-7300 is an ideal choice for ham radio operators who are looking for a premium, feature-rich radio with exceptional performance. If you are an experienced operator who values top-quality audio, intuitive touch-screen operation, and a wide range of capabilities, the IC-7300 is an excellent investment. Moreover, if you are interested in exploring digital modes, the IC-7300's straightforward setup process makes it a compelling option.
Who Shouldn't Buy the ICOM IC-7300?
If you are new to ham radio or on a tight budget, the IC-7300 may not be the best choice for you. Its higher price point and steep learning curve due to the numerous features might be overwhelming for beginners. In such cases, you might be better off considering a more affordable, entry-level radio.
Final Verdict
The ICOM IC-7300 is a premium ham radio that offers outstanding performance, an impressive feature set, and a user-friendly touch-screen interface. Its RF Direct Sampling System, customizable audio settings, and versatile operation capabilities make it a great option for discerning operators seeking a high-quality radio.
Although the IC-7300 has a high price and a steep learning curve, the outstanding performance and array of features it offers make it a worthwhile investment. If you are an experienced operator who values top-notch audio and a wide range of capabilities, the IC-7300 is an excellent choice that will undoubtedly enhance your ham radio experience.