Top 3 Best Waterproof Smartphones In 2023
Searching for the best waterproof smartphones?
If you are an outdoors lover, having a waterproof smartphone isn't just a luxury—it's a necessity. As a seasoned tech aficionado and a nature lover, I've scoured the market to bring you the top waterproof smartphones of 2023 that promise not just resilience but also innovation at its finest.
These aren't mere gadgets; they are steadfast companions ready to brave the elements with you. Through rigorous testing and hands-on experience, I present to you an honest, no-frills analysis of the best waterproof smartphones that combine rugged durability with technological sophistication.
Join me as we dive deeper into a world where technology meets durability, unveiling the true champions in the waterproof smartphone market. Trust me, you'll want to keep reading to discover which phone will earn the privilege to be your next adventure companion.
Our Top Picks
Samsung Galaxy S23 Ultra – Our Top Choice
Apple iPhone 14 Pro – Best Premium Waterproof Smartphone
Blackview BV5200 Pro – Best Budget Waterproof Smartphone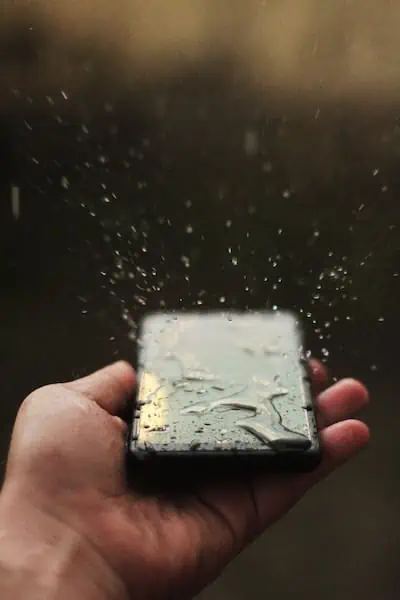 Why Should You Trust Me?
First and foremost, I'm Paul Dudley, the heart and soul behind WhollyOutdoor. This venture sprouted from my deep-seated love for the great outdoors, coupled with an intrinsic connection to technology, an outdoors gear.
Having founded WhollyOutdoor back in 2018, my journey has been fueled by a genuine commitment to bringing forth reviews and insights that resonate with authenticity and objectivity.
Being an avid outdoors enthusiast and a tech geek, I combine my passions to bring you no-nonsense reviews on the latest in outdoor tech, like the waterproof smartphones we're delving into today. Trust in my expertise and genuine love for what I do, as I guide you through selecting the best gear to complement your outdoor experiences, without the fluff.
Check These for More Smartphone Options:
Need More Waterproof Options? Check This: Best Waterproof Ham Radios
How I Choose the Best Waterproof Smartphones
When it comes to pinning down the best waterproof smartphones for 2023, my approach is multifaceted and grounded in both personal experience and extensive research. The task might seem overwhelming given the numerous options flooding the market, but here's a peek into the rigorous process I undertake to narrow down the choices to the very best. Here are the essential factors that guide my selection:
Waterproof and Dust Resistance Ratings – First and foremost, I look into the IP ratings to ensure the smartphones can withstand not just water but also dust particles, a vital feature for outdoor enthusiasts.
Real-World Testing – My adventures outdoors offer a perfect testing ground for these devices. From fishing expeditions to hiking trails, I make sure to test these phones in various real-life scenarios to gauge their resilience and functionality.
Battery Longevity – A crucial aspect is the battery life. I check how the smartphone performs under continuous use to ensure it won't die on you during critical moments.
Camera Quality – Given the scenic places your adventures might take you, having a smartphone with a superior camera is essential. I evaluate the camera specs and real-world performance, including underwater photography capabilities.
Processing Power and Performance – A seamless user experience is vital. I analyze the processor's speed, RAM, and other technical aspects that contribute to a smooth and responsive user interface.
Display and Screen Durability – A phone's display is its window to the world. I focus on screen size, resolution, and, most importantly, its durability to withstand harsh conditions without succumbing to damages.
User Reviews & Community Feedback – The community never lies. I integrate insights from various user reviews and feedback to have a well-rounded perspective on each device's pros and cons.
Brand Reputation and Warranty – I also consider the brand's reputation and the warranty period offered, ensuring you get a reliable gadget with solid after-sales support.
Value for Money – Evaluating if the smartphone offers a bang for your buck is critical. It should provide stellar features without breaking the bank.
Additional Features – Lastly, I look into the extra features that enhance user experience, such as wireless charging, expandable storage options, and the availability of accessories.
Utilizing this comprehensive method, I aim to curate a list that resonates with both tech aficionados and outdoor enthusiasts alike, helping you to zero in on a smartphone that complements your adventurous lifestyle flawlessly.
Going On An Outdoor Adventure? Check These:
3 Best Waterproof Smartphones Reviews
Waterproof Rating: IP68 | Cameras: 200MP wide angle, 12MP ultrawide camera, 10MP telephoto camera with 10x optical zoom, and another 10MP telephoto camera with 3x optical zoom, 12MP selfie camera. | Battery: 5000 mAh battery | Processor: Octa-core (1×3.36 GHz Cortex-X3 & 2×2.8 GHz Cortex-A715 & 2×2.8 GHz Cortex-A710 & 3×2.0 GHz Cortex-A510) | Memory Options: 256GB, 512GB, 1TB |
PROS
IP68 waterproofing
Amazing looks and design
Convenient to use
Amazing rear and selfie cameras
Powerful processor
Best-in-class display
Good performance.
CONS
Expensive
No room for microSD card storage.
Samsung Galaxy S23 Ultra is our top choice in this category for impressive waterproofing, good user experience and interface, and overall impressive features.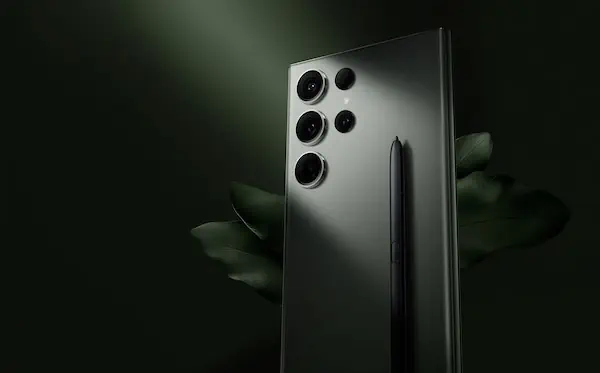 Truth be told, this list could be full of only high-end Samsung or Apple phones, depending on individual preferences and biases. They offer high-quality and impressive devices that often go far beyond the competition.
As waterproofing goes, Samsung Galaxy S23 Ultra is a tough phone with IP68 rating. Samsung sticks to the conventional definition of the rating, and the phone can withstand being underwater for a depth of up to 1.5 meters for 30 minutes. I wouldn't be surprised if it performed better than that, but that's what the technical details are.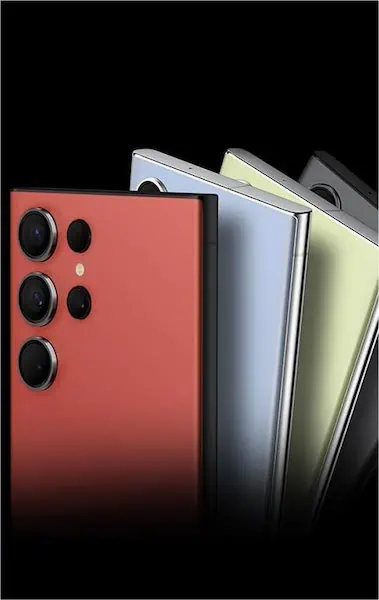 Samsung doesn't spend a lot of time advertising the water-resistance capabilities of this phone, where lesser phones would wear it as a badge of honor. The message is clear, the dustproofing and waterproofing is a protection rating and the phone shouldn't be used or taken underwater.
Again, you might have seen people using their Galaxy S23 Ultra underwater to take pictures, videos, and such, but Samsung doesn't endorse such use of the phone. It's better to use a waterproof housing or case if you intend to use the phone underwater.
Well, the desire for taking pictures can be understood – this phone has amazing cameras! There are four rear cameras in this device and they take pictures with a lot of pixels!
The main camera is a 200MP wide angle camera accompanied by a 12MP ultrawide camera, 10MP telephoto camera with 10x optical zoom, and another 10MP telephoto camera with 3x optical zoom. The phone also features a 12MP selfie camera.
The phone draws its power from a 5000 mAh battery that can last a whole day under normal use. This is also one feature where the S23 Ultra goes beyond the Samsung Galaxy S23, which has trouble going on for a full day.

The 120Hz 6.8-inch display is clear, crisp, and beautiful. The phone comes with Samsung S Pen and has built-in room to store the pen. Even with this additional room and the large display, the Galaxy S23 Ultra feels fairly sleek and easy to work with.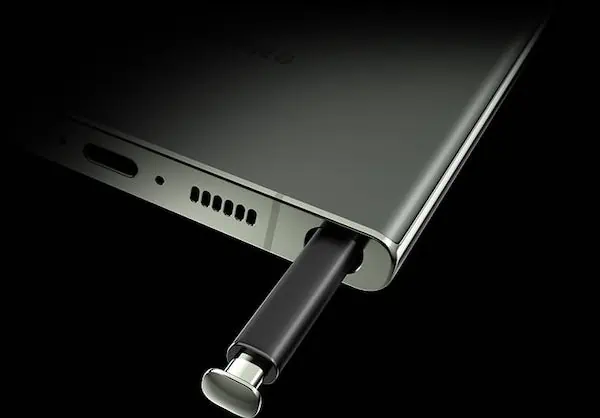 Other notable features include an armor aluminum frame for durability, Corning Gorilla Glass Victus 2, and octa core processor Snapdragon 8 Gen 2 Mobile Platform for Galaxy. The premium phone has a long list of features that are well-targeted for most needs and uses of a premium smartphone.
Overall, Samsung Galaxy S23 Ultra is a premium smartphone with great features, excellent performance, and most relevant to our topic – reliable waterproofing.
Our Ratings
Features: 9.5/10
Build Quality: 9/10
Reliability: 9/10
Value for Money: 8.5/10
Overall Rating: 9.5/10
Need More Communication Options? Check These:
2. Apple iPhone 14 Pro – Best Premium Waterproof Smartphone
Waterproof Rating: IP68 | Cameras: 48MP Main: 24 mm, ƒ/1.78 aperture, second-generation sensor-shift optical image stabilization, 12MP Ultra Wide: 13 mm, ƒ/2.2 aperture and 120° field of view, 12MP 2x Telephoto (enabled by quad-pixel sensor): 48 mm, ƒ/1.78 aperture, 12MP 3x Telephoto: 77 mm, ƒ/2.8 aperture, 3x optical zoom in, 2x optical zoom out; 6x optical zoom range; digital zoom up to 15x | Battery: Built‑in rechargeable lithium‑ion battery, MagSafe wireless charging up to 15W, Qi wireless charging up to 7.5W | Operating System: iOS 16 | Display: Super Retina XDR Display | Memory Options: 128GB, 256GB, 512GB, 1TB |
PROS
Impressive IP68 waterproofing
Amazing looks and design
Very easy to use
Amazing rear and selfie cameras
Powerful processor
Best-in-class display
Dustproof
Well optimized battery.
CONS
Expensive
No room for microSD card storage.
As general build quality, usage, ecosystem, and waterproofing go, Apple phones are tough to beat. And those are some of the reasons why Apple iPhone 14 Pro is our top pick for the best waterproof premium phone.
This could as well be iPhone 14 Pro Max or other iPhone models. As far as waterproofing is concerned, most of the recent iPhone models perform remarkably well. When it comes to the Apple iPhone 14 Pro I like especially the combination of form factor and features better than the others.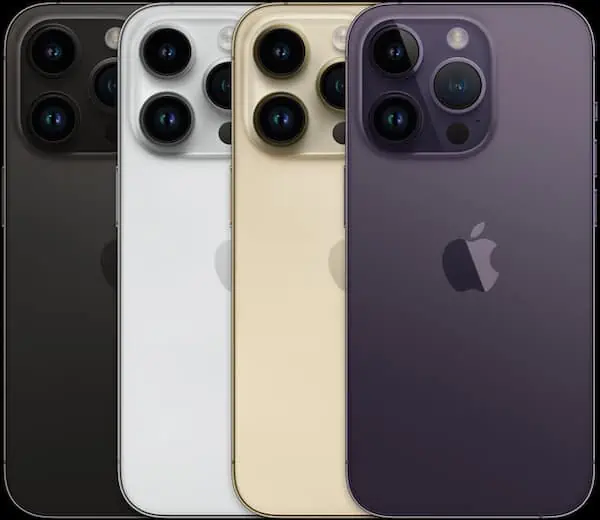 The phone has a protection rating of IP68. In this case, it means the phone is dustproof and can withstand being submerged in water for up to a depth of 6 meters or 19.5 feet for up to 30 minutes.
Those numbers are impressive. The vast majority of phones or electronic devices rated IP68 clock their maximum water-submersible depth at 1.5 meters. And some of these phone manufacturers also advertise that their phone can be used for photography underwater, which is usually a bad idea.
Apple, though it performs way better on these water-resistance metrics than most phones, is actually more circumspect in lauding its achievement. Apple still prefers using the term water-resistant, though less capable phones go around declaring themselves waterproof.
Similarly, Apple takes the more responsible route and reminds users that waterproofing is not a permanent feature and will degrade with time. Users are not encouraged to use their expensive phone underwater for pictures or anything else.
This approach makes sense. Apple phones are high-end and expensive devices, so happy customers are more important than tall claims.
To be clear, there are people who have used their iPhone underwater for photography and even videos, but it's not recommended and Apple doesn't endorse this use. To put it simply, if you intend to use the phone underwater, a good-quality waterproof housing or casing is the way to go.
Apple iPhone 14 Pro has an always on, super retina XDR display that measures 6.12 inches. The display is tough, crisp, clear, and amongst the best (if not the best) in class.
Similarly, the three rear cameras and the selfie camera are all great at their job and take impressive shots.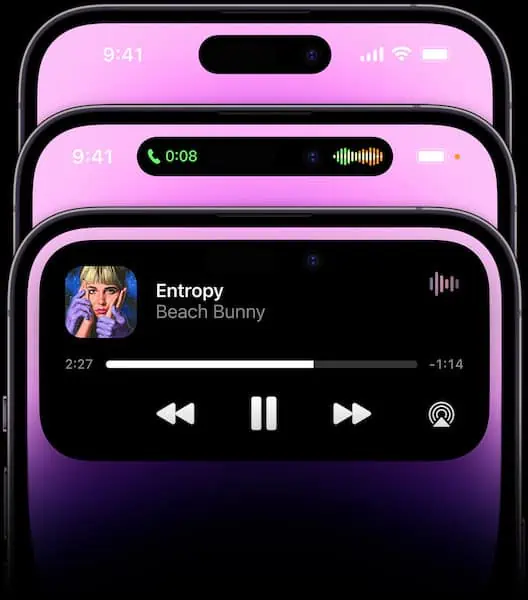 The phone has a well-optimized and long-lasting battery, powerful A16 bionic chip, Face ID, 5G compatibility, and several other impressive features.
Overall, the iPhone 14 Pro is an excellent pick, whether you want a phone for general use or something that's waterproof. The phone is well-regarded, feature-rich, and has excellent build quality.
Our Ratings
Features: 9.5/10
Build Quality: 9.5/10
Reliability: 9/10
Value for Money: 8/10
Overall Rating: 9.5/10
Trying to Keep Your Best Waterproof Smartphones Charged? Check These:
Waterproof Rating: IP69K | Cameras: 13 MP, (wide), 1/3.06″, PDAF, Secondary unspecified 2MP camera, 8 MP Front Camera | Battery: 5180 mAh battery | Processor: Octa-core (4×2.3 GHz Cortex-A53 & 4×1.8 GHz Cortex-A53) | Memory Options: 64GB 4GB RAM |
PROS
Attractive pricing
Decent looks and design
Good form factor
IP69K and MIL-STD-810H certification
5180 mAh battery.
CONS
Phone specs are somewhat below average
Takes a long time to charge
Very basic cameras.
Blackview BV5200 Pro is attractively priced and IP69K waterproof which is the highest water protection rating available at the moment. If you're looking for a waterproof phone on a budget, this might just be it.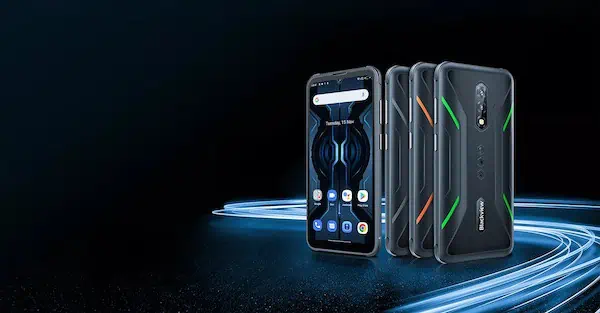 The rating means that the phone is waterproof and dustproof. It is submersible and can handle close-range, high-temperature and high-pressure sprays of water. The phone's enclosure and overall setup are pretty tough to handle these demanding conditions with water.
It would be rare for a phone to be actually exposed to such conditions in normal use, so it also works wonderfully as a conventional waterproof phone. That tough design extends further than just waterproofing.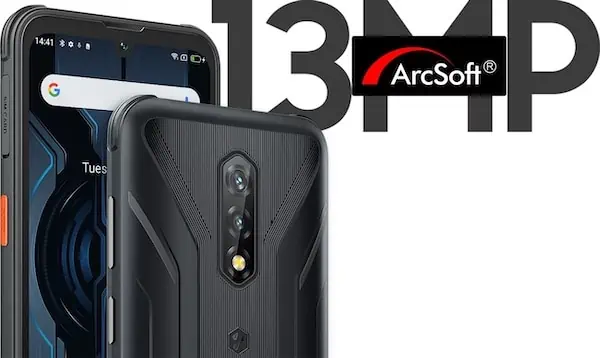 Blackview BV5200 Pro is also certified to military standards with MIL-STD-810H rating. This means that the phone can work in extreme conditions, involving cold and hot temperatures, or high humidity conditions.
The tough phone can withstand being dropped from a height of up to 1.5 meters, withstand being submerged in 1.5 meters of water depth for up to 30 minutes, handle jets of water directed at the phone, and is dustproof.
That's one tough cookie for a budget price!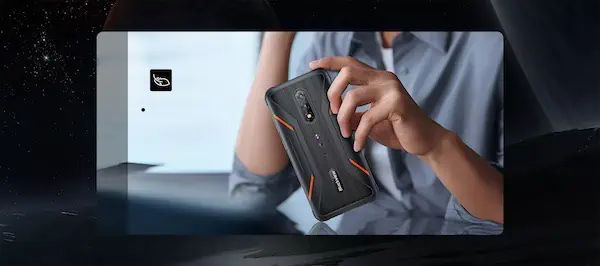 It is worth pointing out that waterproof ratings are protection ratings, not usability ratings. So, a user might be able to take pictures or otherwise use the phone underwater, but it's not always a good idea.
For most phones, the waterproofing extends to depths ranging from 3-5 feet, which is fairly limited in scope anyway. So, if you intend to use the phone underwater even as a camera, get a protective housing for the purpose.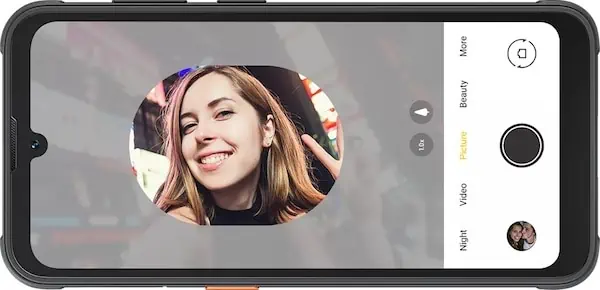 Speaking of cameras, this Android phone uses two rear cameras and a front-facing camera. All of them are fairly basic. The dual rear camera setup is 13MP and 2MP, while the front camera is 8MP.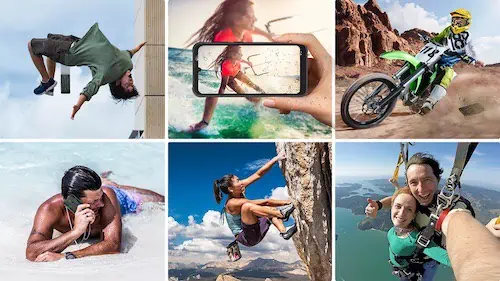 Other specs include 4GB RAM (plus 3GB virtual RAM), 64GB internal storage, and support for up to 1TB microSD card. It has a nice 5180 mAh battery, though the charging power is only 10W, so it takes its sweet time charging.
Overall, the specs for this phone are average or even lower than average. Yet, Blackview BV5200 Pro is built to be remarkably rugged, waterproof, and comes in at an attractive price.
Our Ratings
Features: 6/10
Build Quality: 9/10
Reliability: 7/10
Value for Money: 9/10
Overall Rating: 7.5/10
Want to Learn About Handling Walkie Talkies? Check These:
Frequently Asked Questions (FAQs)
What Makes a Smartphone Truly Waterproof?
A smartphone is considered truly waterproof when it has an IP68 rating or higher, meaning it can be submerged in water for extended periods without damage. Make sure to look for this rating while choosing the best waterproof smartphone for you.
How Reliable Are the Waterproof Ratings on Smartphones?
The waterproof ratings, typically indicated as IP ratings, are quite reliable as they are based on standardized tests. However, it is always good to check user reviews and real-world testing results to confirm the reliability for individual models.
Can I Use Waterproof Smartphones in Saltwater Environments?
While IP ratings indicate water resistance, using your smartphone in saltwater can be riskier as saltwater can corrode the materials. Always rinse the phone with fresh water if it comes into contact with saltwater.
What is the Lifespan of Waterproofing on a Smartphone?
The lifespan can vary, but over time, the waterproofing seal can degrade, especially with frequent exposure to water and physical impacts. Regular check-ups at an authorized service center can help maintain the waterproof feature.
How Important is the Battery Life in Waterproof Smartphones?
Battery life is a crucial factor. Especially if you plan to use the phone for capturing photos or videos underwater, you would need a smartphone with a long-lasting battery. Check the battery specifications and user reviews to gauge the battery life of the phone.
What Should I Look for in the Camera Quality of Waterproof Smartphones?
If underwater photography is a priority, look for smartphones with advanced camera features like high-resolution sensors, optical image stabilization, and good low-light performance to capture the best shots underwater.
How Can I Check the Durability of Waterproof Smartphones?
The durability can often be assessed through the build material (like Gorilla Glass or aluminum chassis), certifications and user reviews that mention the phone's resistance to drops and impacts, in addition to its waterproof capabilities.
Is the Audio Quality Compromised in Waterproof Smartphones?
Not necessarily. Many waterproof smartphones offer excellent audio quality, with features such as noise cancellation and stereo speakers. It is advisable to check the audio specs and reviews before making your choice.
Are There Waterproof Smartphones with Ample Storage Space?
Yes, most modern smartphones come with substantial storage space. If you are planning to store a lot of media, opt for a model with at least 128GB of storage or provisions for expandable storage.
How to Determine the Best Display Quality in Waterproof Smartphones?
For a vivid and bright display, consider smartphones with OLED or AMOLED screens. Also, a higher resolution (like QHD or 4K) will provide a clearer and more immersive viewing experience.
Is it Possible to Find a Waterproof Smartphone that Fits my Budget?
Absolutely. The market offers a range of options from premium to budget-friendly waterproof smartphones. You can filter the options based on your budget while keeping an eye on the necessary features you desire.
What Kind of After-Sales Service Can I Expect with Waterproof Smartphones?
Reputed brands offer good after-sales service including warranties and easy repairs. Ensure to check the brand's service reputation in user reviews and forums before making a purchase.