Top 3 Best Rugged Smartphones That Work on Verizon In 2023
Looking for a tough, yet affordable smartphone that works great with Verizon? You're in the right place! We've got the inside scoop on phones that aren't just strong and reliable, but won't break the bank either.
We kick things off with a budget-friendly option that's not only kind to your wallet but also ready to face rough situations with ease. Following closely is a phone from a brand you trust, bringing together style and strength in one neat package.
But wait, there's more! Further down in this guide, we've got the ultimate treat for you: a phone that's making waves in the rugged scene, ready to turn your outdoor adventures into unforgettable experiences.
Curious to know more? Dive into the full blog post and discover our top suggestion. Let's get started!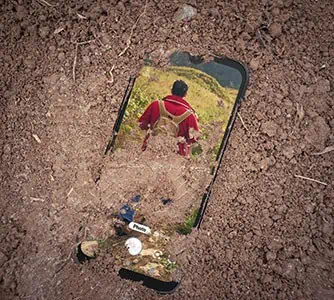 Our Top Picks
Doogee V30 – Our Top Choice
Samsung Galaxy XCover6 Pro 5G – Best Premium Phone
Kyocera DuraSport 5G UW C6930 – Best Budget Phone
Why Should You Trust Us?
At WhollyOutdoor, your trust is our priority. Our foundation is built upon genuine outdoor experiences and a passion for sharing objective and honest reviews.
Paul Dudley, our founder, isn't just an editor; he's an avid outdoorsman, constantly exploring and testing the products we recommend first-hand.
Through his deep connection with outdoor activities and a commitment to truth and education since 2018, you can rely on our insights to guide your next rugged smartphone purchase.
Check These for More Smartphone Options:
How We Choose the Best Rugged Smartphones that Work on Verizon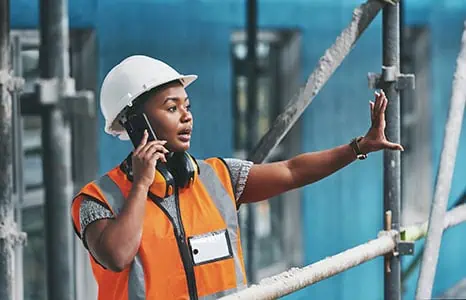 Picking the crème de la crème of rugged smartphones for Verizon isn't just about the bright screens or snappy processors. We dive deeper, considering a myriad of factors to bring you phones that won't let you down when the going gets tough. Here's a glimpse into the elements we considered:
Durability is Key
Drop Resistance: Can it withstand a fall from a considerable height?
Water-Resistance: Does it hold up when submerged or exposed to heavy rain?
Dust and Dirt Resistance: How well does it prevent tiny particles from getting inside?
Performance Metrics
Battery Life: Analyzing the hours of usage you can squeeze out of a full charge.
Processing Speed: Investigating how quickly and smoothly it can run multiple applications.
Camera Capabilities
Picture Quality: A look at the clarity and vibrancy of the photos it captures.
Video Quality: Scrutinizing the crispness of the videos, even in challenging environments.
User Experience
Ease of Use: Ensuring the interface is user-friendly and not a headache to navigate.
Display Quality: Checking the brightness and clarity, especially under direct sunlight.
Connectivity with Verizon
Signal Strength: Testing how well the phone maintains a strong connection with Verizon's network.
Internet Speed: Checking the quickness of downloading and uploading speeds on Verizon's network.
Budget and Value
Affordability: Assessing whether the phone offers good value for its price tag.
Warranty and Support: Looking into the kind of after-sale service and warranty the phone comes with.
Extra Features
Extra Perks: Does it offer any additional features that give it an edge over others?
Keep Your Best Rugged Smartphones That Work on Verizon Charged with These:
3 Best Rugged Smartphones That Work on Verizon Reviews
PROS
Good build quality
High-quality front facing speakers
Sensitive touchscreen can work with gloves
Good cameras and picture quality
Night vision cameras
IP68/IP69K and MIL-STD-810G certifications
Large battery.
CONS
No 3.5mm headphone jack
Battery optimization could be better.
The average consumer may not be as familiar with this brand, but in the niche of rugged phones, Doogee has been making all kinds of waves.
From cheap and tough phones to more advanced and complex rugged devices, the brand seems to have its role figured. Doogee V30 Rugged Smartphone is an excellent addition to that success story.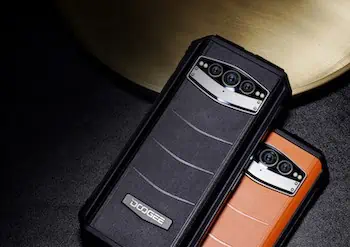 The phone has good specs, shows an attention to detail, works on 5G with most US cellular providers including Verizon, and has some very interesting features.
One of the coolest and unique features of this phone is the night vision camera. It uses a 20MP Sony IMX350 night vision camera for the purpose and provides a clear display and the ability to take pictures in the dark. The night vision alone can be pretty useful in several outdoor and general situations.
Apart from the night vision, the phone features two other cameras on its back. These are the 108MP main camera and an 8MP wide angle and macro lens camera. The front-facing camera is 32MP.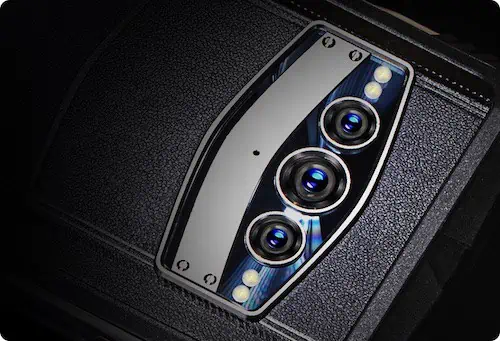 The camera capabilities of the phone are fairly good and result in clear, crisp, and wonderful images. And they look especially good on its very nice waterdrop display. This is a 6.58-inch IPS 120HZ display with 2408 x 1080 resolution.
Videos, pictures, movies, and even games look pretty good on this display. And since this is a rugged phone, the display is made of tough Corning Gorilla Glass. It's not the toughest glass there is, though it is one of the stronger and more impressive glasses.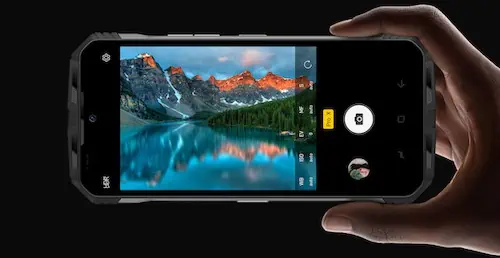 The high-res dual speakers match the wonders of the screen, creating a more immersive experience. While the speakers aren't all that impressive by themselves, they are angled and front-facing, enabling clear and better audio for the user.
Even with all these high-end features, the phone maintains the physical aspects of a rugged phone. Its casing is visibly tough and armored. Additionally, the corners are rounded and feature rubber coats to make it more resistant to damage from drops.
A well-placed rubber flap also shows up at the base of the phone to cover the charging connector and keep the phone waterproof. It's a useful addition from a waterproofing perspective, but the flap can be inconvenient and a hassle at times, especially when charging.
Thankfully, charging is impressively quick with this phone, even though it features a mammoth 10800 mAh battery. The phone supports 66W fast charging on USB-C, so even this large battery can be fully charged relatively quickly. Though if you prefer wireless charging, be prepared to wait for longer, as the phone supports 15W wireless charging.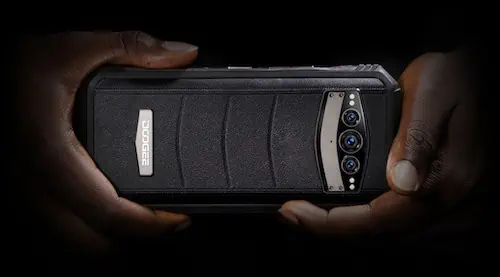 Doogee V30 runs on MediaTek Dimensity 900 processor, has 15GB RAM of which 7GB is virtual RAM, and has 256GB internal storage. Should you need additional physical storage, the phone supports microSD cards up to 1000GB.
Overall, this is a rugged phone with great features, good build, good picture quality, large battery, and a generally good user experience.
Our Ratings
Features: 9/10
Build Quality: 9/10
Reliability: 8/10
Value for Money: 8.5/10
Overall Rating: 9/10
Looking into Ham Radio Models? Check These: 
PROS
Offers 5G, Wi-Fi 6E, and is CBRS-ready
Removable back panel and replaceable battery
Sensitive touchscreen can work with gloves
Two programmable buttons for easy access
IP68/IP69K and MIL-STD-810G certifications
Good cameras.
CONS
There are Issues on some Verizon bands
Battery charging is limited to 15W and can take long time
Removable back panel may affect waterproofing and dustproofing.
Brand value and implied trustworthiness are the biggest strengths of the Samsung Galaxy XCover6 Pro 5G. In a niche where phones can be expensive and come from lesser-known companies, the presence of a well-known brand can make a difference.
To be fair to Samsung and this phone, it doesn't just try to scoot with its brand recognition. In fact, the Galaxy XCover6 Pro 5G is a decent rugged smartphone in its own right. And Samsung has done the work with certifications to secure this phone a spot in the rugged niche.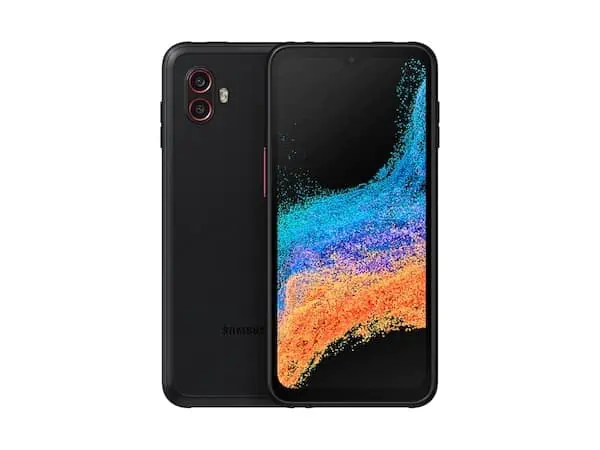 It comes with a MIL-STD-810H certification and testing. This means the phone can work in extreme temperatures (cold and hot), in moisture, and can withstand a drop from a height of up to 1.5 meters.
While this is to be expected from any rugged phone, it certainly is likable that the XCover6 Pro manages to pull off this toughness while looking like an average phone, and not a beefed up rugged and armored phone.
Any rugged phone worth its salt should have good waterproofing. This phone is rated IP68, making it dustproof and waterproof. It can stay underwater to a depth of 1.5 meters for 30 minutes without damage. Though it might be possible to do so, ideally, the phone shouldn't be used underwater.
Apart from its rugged credentials, the phone remains a very useful device with attention to user experience and interface.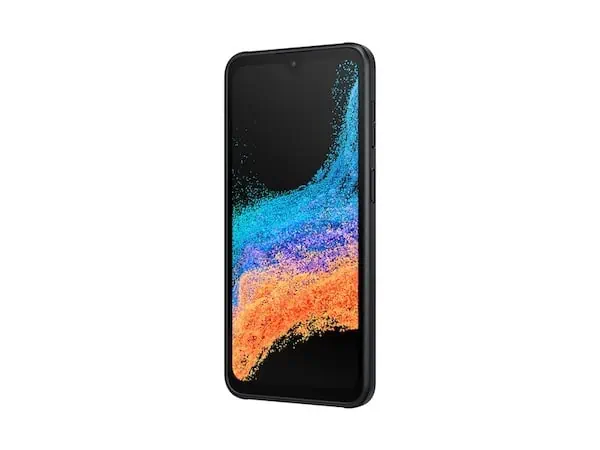 The sensitive touchscreen remains usable even if the user is wearing gloves up to 2mm thick. This feature is not without its issues, but it works well enough and is welcome in cold weather and some work environments.
Samsung has also added two programmable buttons on this phone, which are a nice touch. One button is on the side, while the other takes its place on the top of the phone. Users can set these buttons to their preference.
The most popular option is to use one of the buttons as a PTT (push to talk) button. This usually requires a compatible app and an internet connection. However, PTT is remarkably useful, especially in work or outdoor environments where pushing a button might be more desirable than dialing a phone number.
Samsung Galaxy XCover6 Pro 5G also features a removable battery. That's a very nice touch in a world where most phones have moved away from user-accessible batteries.
This setup allows users to replace the battery when desired, or even to use a spare battery to keep the phone running for longer without stopping for a charge.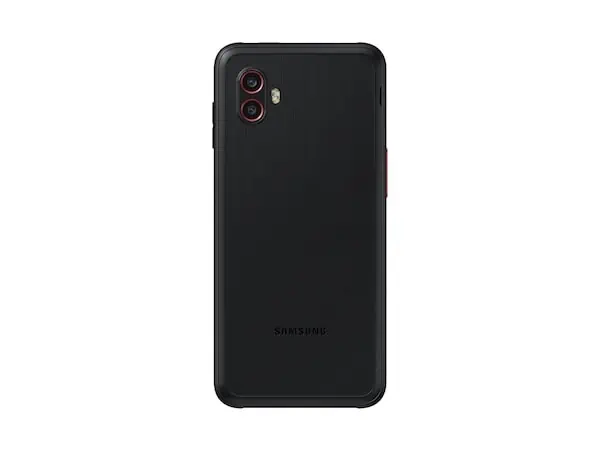 There is a downside to this approach though. Removing the case for changing the battery can affect the seal of the phone, eventually causing problems with its waterproofing and dustproofing.
Other notable features include 4050 mAh battery, USB-C charging, Snapdragon 778G processor, dual rear cameras, dual sim (nano sim and e-sim), WiFi 6E, CBRS-ready, and wideband 5G.
The phone is unlocked and can work with most US cellular operators. It works easily with Verizon as well, though some bands might occasionally cause issues with 5G.
Overall, Samsung Galaxy XCover6 Pro 5G is an excellent rugged phone with good features, a sleek profile, and convenient usability. The phone can handle demanding environments and demanding use with some finesse, making it a great pick if you are looking for a premium rugged phone that works on Verizon.
Our Ratings
Features: 9.5/10
Build Quality: 8/10
Reliability: 9/10
Value for Money: 8/10
Overall Rating: 9/10
Check These:
PROS
Decent looks and design
Tough build with MIL-STD-810G certification
Dustproof and waterproof with IP68 rating
Supports USB-C fast charging and wireless charging
Two year warranty
Programmable button on side.
CONS
Phone specs are dated
Battery life could be better.
Kyocera DuraSport 5G UW C6930 is attractively priced, supports 5G, and works on Verizon without a hitch. The "UW" in the phone's name signifies "ultra wideband," which means that the phone has better 5G coverage, including the mid-band spectrum. It works effortlessly with Verizon, though that's only reasonable, considering that the phone is locked to the network.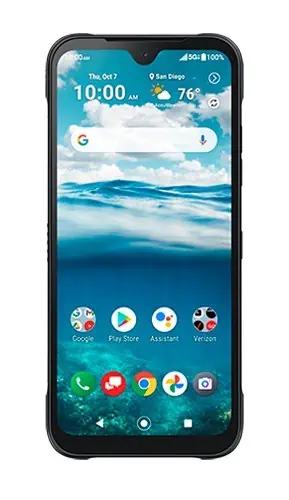 The phone doesn't take on an appearance that signifies its ruggedness. It's a relatively thin phone and its casing doesn't appear to be thoroughly armored or thick. Yet, there is a degree of ruggedness to this phone, which becomes apparent with the MIL-STD-810H certification.
The rating implies that the phone has been tested and certified to be workable in extreme ambient temperature conditions, high moisture environments, and can survive a drop from up to 5 feet height on concrete.
Although, if you prefer the more conventionally rugged look, the more expensive Kyocera DuraSport 5G UW E7110 variant might be worth a look. This model is similar in overall length to the DuraSport C6930.
It sports a thicker and apparently tougher casing, but has a slightly smaller display at 5.4 inches, compared to the 6.55 inches on the DuraSport C6930. I do like the speakers placed at the front of the phone, though that come at the cost of the overall appearance and design of the phone.

The tough credentials of the phone continue with its dustproofing and water-resistance ratings. Kyocera DuraSport 5G UW C6930 is certified IP68 waterproof, which means that the phone can survive staying underwater at a depth of up to 5 feet for 30 minutes.
Some marketing literature from Kyocera suggests that the waterproofing here will allow the users to use the phone, or at least the camera safely underwater. While this is certainly possible, it might not be a good idea to actually use the phone underwater without a protective casing.
The phone includes a "glove mode" that makes it easy to use and operate the touchscreen while wearing gloves. It can be a little less responsive occasionally, but it is generally a very useful feature.
Another great feature here is the large programmable button on the side of the phone. While you could use it for any app you prefer, Kyocera highlights that it's useful as a PTT button. And that indeed can be very helpful in several situations including workplace uses, or for leisure uses like hiking.
Other notable features on the phone include a 4500 mAh battery, USB Type-C charging, Qi wireless charging, 48MP main rear camera with 16MP ultrawide secondary camera, and an 8MP front camera.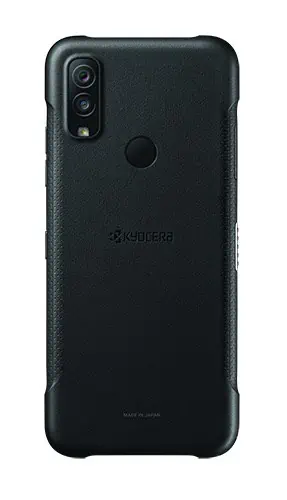 Overall, this is a quick and simple phone if you want a budget device that's reasonably rugged and works well on Verizon.
Our Ratings
Features: 8/10
Build Quality: 8/10
Reliability: 7.5/10
Value for Money: 8.5/10
Overall Rating: 8/10
Need More Outdoor Communication Options? Check These:
Frequently Asked Questions (FAQs)
1. What features should I look for in a rugged smartphones that work on Verizon?
In a rugged smartphone, look for high durability, water and dust resistance, long battery life, and a robust camera. These features will ensure the phone can withstand harsh conditions while still offering a quality user experience.
2. How important is battery life in a rugged smartphone?
Battery life is vital, especially if you plan to use the phone during long trips or outdoor adventures. Look for a phone with a battery that lasts at least a full day of heavy usage to ensure you aren't left stranded.
3. Can rugged smartphones withstand extreme temperatures?
Yes, a quality rugged smartphone should function well in both extremely hot and cold conditions. Ensure to check the phone's specifications to confirm its operating temperature range.
4. How do I identify a rugged smartphone with a good camera?
Check for camera specs like resolution, aperture size, and additional features like night mode and image stabilization. Customer reviews and sample photos can also provide insights into the camera's real-world performance.
5. Are rugged smartphones bulky?
Rugged smartphones are built to withstand harsh conditions, which sometimes results in a bulkier design. However, many modern rugged smartphones balance durability with a sleek design, offering the best of both worlds.
6. Do rugged smartphones work well with Verizon?
While most rugged smartphones are compatible with various carriers, it's essential to verify that the specific model you're considering is fully compatible with the Verizon network to ensure optimal performance.
7. How does the display quality of rugged smartphones compare to regular phones?
Many rugged smartphones offer high-quality displays with excellent touch sensitivity, comparable to regular smartphones. When choosing, consider the resolution, brightness, and whether the screen can be used with gloves or wet fingers.
8. What warranty options are available for rugged smartphones?
Most rugged smartphones come with a manufacturer warranty that covers defects and issues for a specified period. Always check the warranty details to understand what is covered and for how long.
9. How can I transfer data from my old phone to a new rugged smartphone?
Most rugged smartphones offer easy data transfer options through built-in features or compatible apps. Before purchasing, check that the smartphone supports straightforward data transfer methods to simplify the setup process.
10. Can I use a rugged smartphone for everyday activities, like browsing and gaming?
Absolutely! Modern rugged smartphones come with powerful processors and ample storage, making them suitable for daily tasks like browsing, gaming, and streaming, alongside their outdoor functionalities.
11. What makes a smartphone "rugged"?
Rugged smartphones are built to withstand harsh conditions. They generally have strong exteriors that can resist damages from falls, water, and dust, making them ideal for outdoor use.