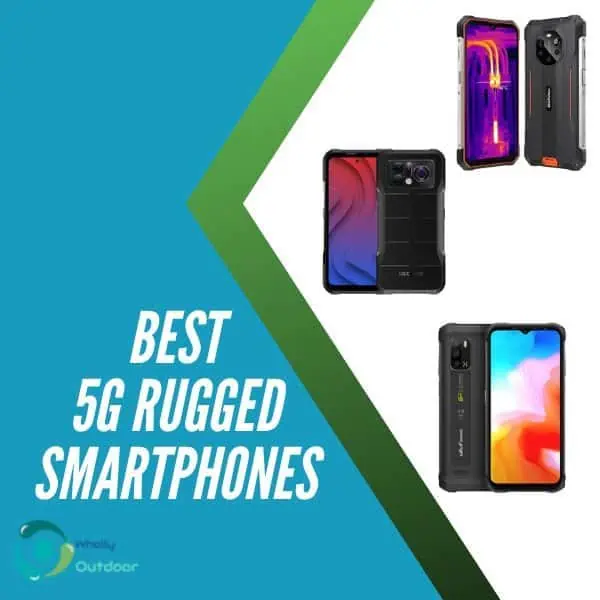 Top 3 Best 5G Rugged Smartphones In 2023
Searching for the best 5G rugged smartphones?
In the realm of rugged smartphones, clarity and durability matter most, especially for outdoor enthusiasts like us.
Balancing tech expertise with my adventures in the great outdoors, I've delved deep into the latest offerings to bring you the most resilient 5G rugged smartphones in the market.
Trust me, you'll want to know which of these devices can truly weather the challenges of nature. Ready to uncover the best fit for your next expedition? Let's explore together.
Our Top Picks
Blackview BL8800 Pro – Our Top Choice
DOOGEE V20 Pro – Best Premium 5G Rugged Smartphone
Ulefone Armor 12 – Best Budget 5G Rugged Smartphone
Why Should You Trust Us?
At WhollyOutdoor, it's not just about reviews; it's about a commitment we've held since 2018 to offer the best insights into the outdoor realm. Our founder and editor, Paul Dudley, channeled his passion for ham radios, fishing, and outdoor adventures to give birth to this platform.
Our selections aren't arbitrary; they echo hours of research, real-life testing, and above all, a genuine love for the outdoors. Over the years, we've cultivated a reputation for objectivity and honesty.
When we vouch for a product, it's because we believe in its value for outdoor enthusiasts like you. You're not just reading another review; you're getting a piece of trusted advice from an ardent outdoor lover.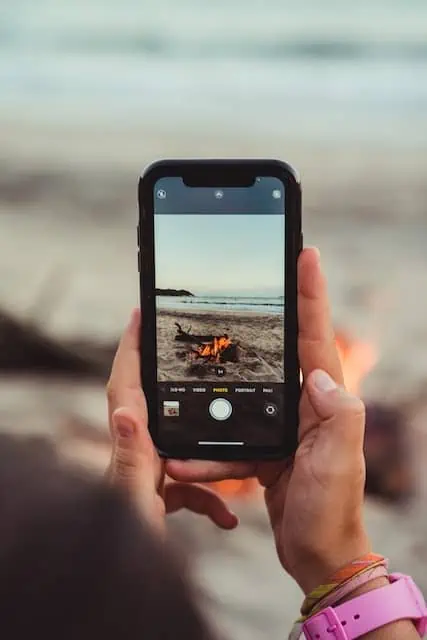 How We Choose the Best 5G Rugged Smartphones
When it comes to identifying the best 5G rugged smartphones in 2023, we don't just rely on manufacturer promises. We take our task seriously. Here's an exclusive look into our meticulous methodology:
Hands-On Testing: There's no better way to understand a smartphone than to hold it, use it, and yes, sometimes even drop it! We purchased a variety of models and tested them in real-world conditions – from hiking trails to construction sites, ensuring they can endure rugged environments.
Battery Life: A rugged phone's best friend is its battery. We analyzed the battery life of each phone, considering factors like capacity, the efficiency of the chipset, and power management software. Those that could sustain long hours under intensive usage made the cut.
Certifications: It's one thing for a company to claim their phone is tough, but certifications like MIL-STD-810H/G and IP68/IP69K offer concrete proof. We paid close attention to these certifications which are clear indicators of a phone's ruggedness.
5G Capabilities: We dove deep into the phones' 5G compatibility. This meant looking at supported bands, carrier compatibility, and real-world 5G performance. After all, what's the use of having a 5G phone if it doesn't consistently deliver fast speeds?
User Reviews: Beyond our own experience, we scoured user reviews to gather insights. These firsthand accounts often highlight issues (or praises) that might not show up in short-term testing.
Feature Set: We considered other features like thermal imaging, night vision camera, and NFC which enhance the phone's utility, especially in specialized tasks and adventurous settings.
Value for Money: Price plays a crucial role. We weighed the features and durability of each phone against its cost, ensuring that our recommendations provide the best bang for your buck.
Software and Updates: A phone's software and its frequency of updates can be just as crucial as its hardware. We favored phones with a clean, bloatware-free experience and a track record of timely updates.
Aesthetics and Design: Even rugged phones can be sleek! While durability was paramount, we also appreciated phones that managed to blend ruggedness with a design that wouldn't look out of place in an urban setting.
Community Feedback: We actively engaged with online communities, gathering insights and feedback from experts and enthusiasts in the rugged smartphone niche.
Check This: Best Rugged Smartphones
Comparison Table
| | | | |
| --- | --- | --- | --- |
| Feature/Aspect | Blackview BL8800 Pro (Our Top Choice) | DOOGEE V20 Pro (Best Premium) | Ulefone Armor 12 (Best Budget) |
| | | | |
| PROS | – Night Vision Camera- Thermal Camera- MIL-STD-810H- IP68/IP69K- Good value for money- Good camera setup- Powerful battery with OTG charging- Air pressure sensor | – Night Vision Camera- Thermal Camera- IL-STD-810H- IP68/IP69K- Remarkable display- Dual sim and dual 5G | – Attractive pricing- MIL-STD-810G- IP68/IP69K- Decent camera- Good display- Loud speakers- Emergency reverse charging |
| CONS | – Thermal imaging could be better- Facial recognition errors- 5G compatibility issues with some networks | – Battery life could be better- 5G compatibility issues with some networks | – 5G limited to T-Mobile and Sprint- Battery life could be better- Significant bloatware |
| Battery & Charging | 8380mAh, 33W Fast Charging, OTG Charging | – | 5180mAh, 18W Fast & 15W Wireless |
| Display | – | 6.43-inch AMOLED | – |
| Camera Setup | 50MP, 2MP, FLIR Thermal, 5MP, Infrared | 64MP, 24MP, 8MP | 48MP, 8MP, 2MP, 2MP |
| 5G Compatibility | T-Mobile, Metro (Not Verizon, Sprint) | Most (Check for Verizon, AT&T) | T-Mobile, Sprint |
| Weight | 370g (0.82 pounds) | – | – |
| Ratings | | | |
| Features | 9/10 | 9.5/10 | 8/10 |
| Build Quality | 9/10 | 9/10 | 8/10 |
| Reliability | 9/10 | 8/10 | 8/10 |
| Value for Money | 9/10 | 8.5/10 | 9/10 |
| Overall | 9/10 | 9/10 | 8/10 |
3 Best 5G Rugged Smartphones Reviews
PROS
Night vision camera
Thermal camera
Tough build with MIL-STD-810H certification
Dustproof and waterproof with IP68/IP69K rating
Good value for money
Good camera setup
Powerful battery with OTG charging
And the air pressure sensor.
CONS
Thermal imaging performance could be better
Facial recognition can have errors
5G compatibility issues with some networks.
Blackview BL8800Pro is a mid-range phone with a good gamut of features and reasonably good performance. It's tough, built to last, and works well on 5G. The combination of good design, features, and dependability makes it our top choice for this category.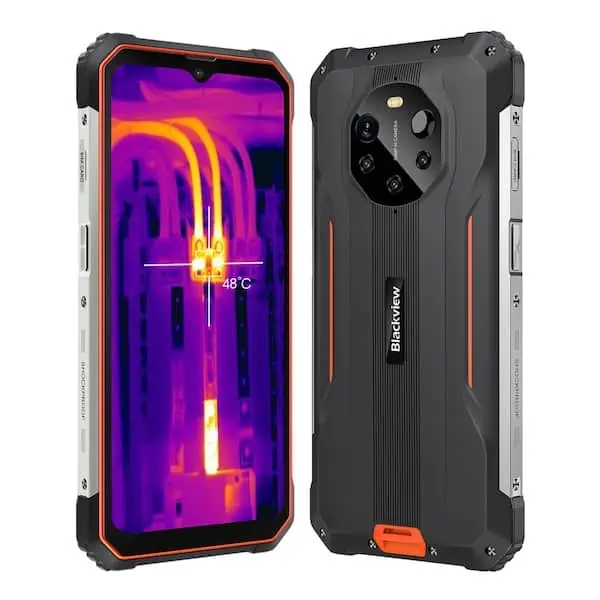 The tough casing and design of the phone settle its use as a rugged phone. There is some heft to the phone and it feels substantial with its 370 gram (0.82 pounds) weight.
While the tough body and rubberized edges play a part, a substantial reason for this weight comes down to a better cooling system and larger battery.
Both these choices can be acceptable trade-offs for rugged phones. And they make perfect sense when utilized with the same dexterity as Blackview BL8800 Pro. The phone runs on a 8380mAh battery that's satisfyingly resilient and can last a long time.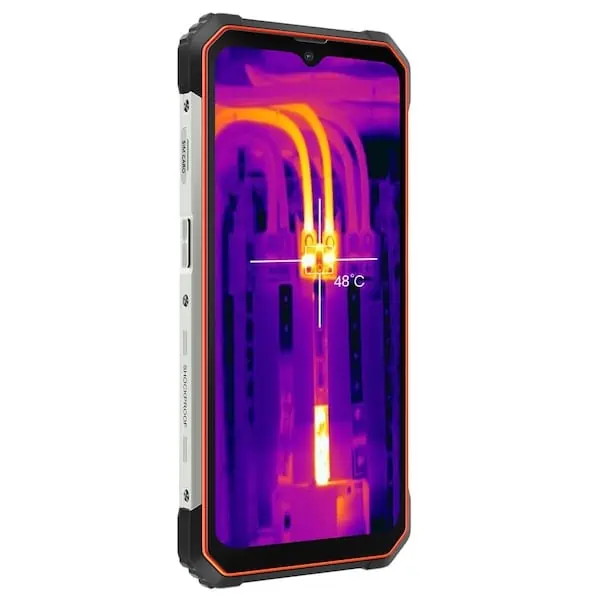 It also supports OTG function, in case you feel the need to use the phone to charge other devices. After all, the big battery can find several uses!
And how long would it take to charge this battery?
It supports 33W fast charging, which is good enough to get it fully charged and ready to go in 1.5 hours.
As with most rugged phones, Blackview BL8800 Pro carries some tough protection ratings and certifications. However, it goes a step further with the more demanding MIL-STD-810H certification, as compared to the MIL-STD-810G many rugged phones choose.
The certification means that the phone can work in tough environments including high or low temperatures, high moisture, shock, and similar conditions. The operating temperature range for this phone is -4℉ to 131℉. It can also survive a fall from a height of 6.5 feet, though this can depend on other circumstances as well.
The IP ratings for this phone are IP68 and IP69K, signifying that it's waterproof and dustproof. It can survive being submerged in water for up to a depth of 1.5 meters for about 30 minutes.
Other notable features and specs on the BL8800Pro include dual sim capability, NFC with Google Pay, and MediaTek Dimensity 700 processor.
At its front, the phone includes a 16MP selfie camera and there's some serious camera action going on at the rear. There are five cameras here, including a 50 MP main camera, 2MP depth camera, FLIR Lepton Thermal Imaging Camera, 5MP thermal assisted camera and two infrared LEDs.
The thermal imaging is pretty sharp and useful, and the night vision camera offers a good and clear view. Its main camera isn't something to be scoffed at either, and shows good performance and clear pictures.
Interestingly, though the phone has two sims, it doesn't make room for a microSD card, which is a bit of letdown.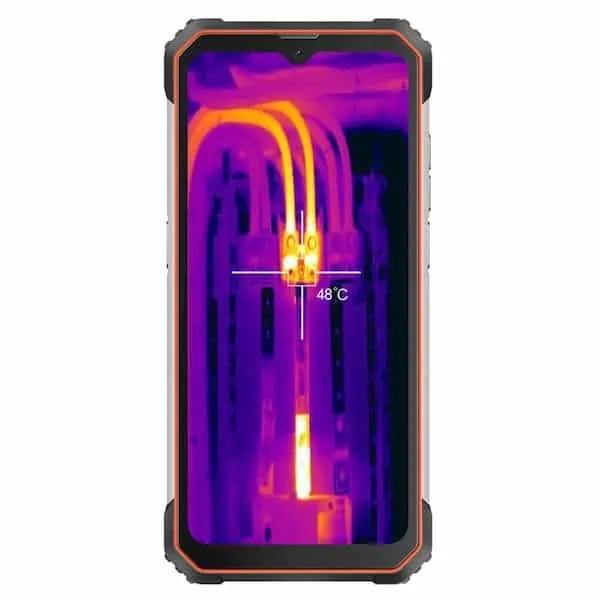 And though it is 5G capable, as with many other phones, there are limitations on network compatibility. It will work with T-Mobile, Metro, etc., but not with Verizon, Sprint, and US Cellular.
Overall, Blackview BL8800Pro is a capable phone with decent features, good value, and an impressive battery. It handles 5G well, though its compatibility is limited to some networks.
Our Ratings
Features: 9/10
Build Quality: 9/10
Reliability: 9/10
Value for Money: 9/10
Overall Rating: 9/10
Keep Your Rugged 5G Smartphone Charged with These:
2. DOOGEE V20 Pro – Best Premium 5G Rugged Smartphone
PROS
Night vision camera
Thermal camera
Tough build with MIL-STD-810H certification
Dustproof and waterproof with IP68/IP69K rating
Remarkable display
Dual sim and dual 5G.
CONS
Battery life could be better
5G compatibility issues with some networks.
Rugged design, stable performance, and some unique and interesting features win Doogee V20 Pro the premium spot on this list. The most interesting and eye-catching feature here is the thermal imaging camera.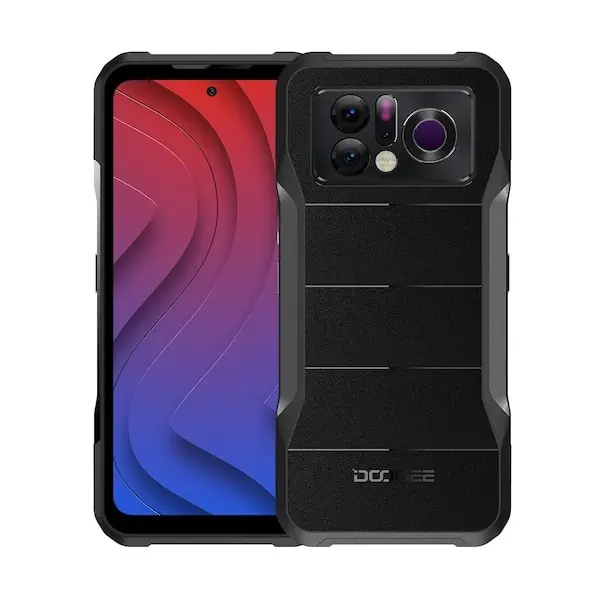 Apparently, Doogee loves this feature too and has a few interesting things to say about it. They claim that the thermal detection range for this phone goes all the way up to 1000 meters, and the no-omission night-time object detection works in all types of weather.
To some degree, those are tall claims. You could have no-omission object detection going all the way to a kilometer, but it doesn't always work reliably. Although it's not completely out of the picture either, both literally and figuratively! The thermal imaging resolution for this phone is 1440×1080, which is good for viewing and a significant improvement over previous versions.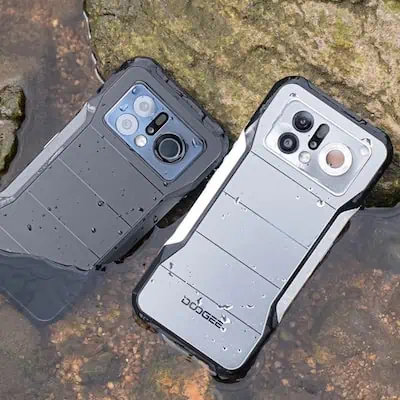 The thermal camera finds its place close to the rear cameras of the phone. So, the possibility of hybrid captures and good resolution stays alive and useful.
Doogee V20 Pro camera capabilities go further with a 24 MP night vision camera. This one has clear imaging and display, and works with relative ease and finesse. Of course, conventional photography needs aren't forgotten and the phone features an AI triple camera (64MP+24MP+8MP) on its back. The 16MP selfie camera is decent as well, with beautification and HDR functions.
The cameras work well with the bright, 6.43-inch AMOLED display. It's clear, crisp, and rather tough. Corning Gorilla Glass keeps the display tough and dependable. It's not the toughest, but it's still impressively strong.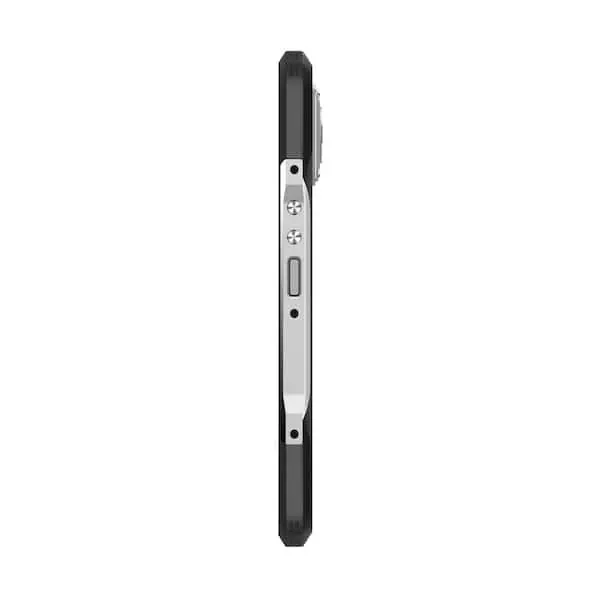 This strong approach continues with the body of the phone. It has a tough case, with rounded and rubberized corners to present better shockproofing. Doogee V20 Pro has a MIL-STD-810H certification, showing it can work in difficult operating conditions including temperature, dust, moisture, shock, and more.
Its dustproofing and waterproofing capabilities also come to light with IP68 and IP69K protection ratings. These ratings mean that the phone can survive being submerged in water at a depth of up to 1.5 meters for up to 30 minutes. It should also be able to handle some pressure, moisture, and water jets directed towards the phone.
Despite its rugged credentials, the phone stays within conventional premium phone weight characteristics. It could be slightly heavier, but doesn't quite take on the heavyset approach that many rugged phones prefer.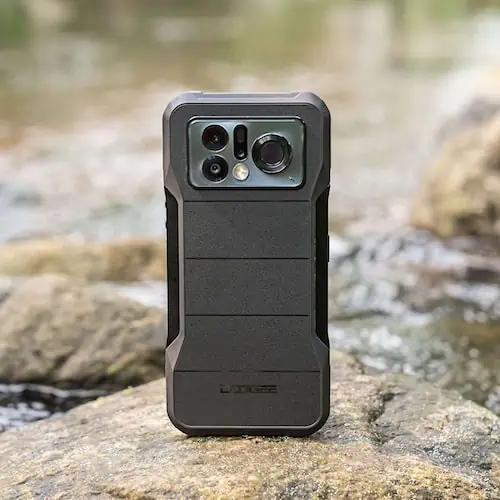 Running on Android 12.0, the phone features dual sim and dual-5G capabilities. Its 5G capabilities work with most networks, though if you're on Verizon or AT&T, it might be better to check local frequencies to see if the phone will be compatible. To be clear, the phone is unlocked and can work with all networks.
Overall, Doogee V20 Pro is a premium rugged smartphone with good features, lively camera features, a sturdy design, and decent performance.
Our Ratings
Features: 9.5/10
Build Quality: 9/10
Reliability: 8/10
Value for Money: 8.5/10
Overall Rating: 9/10
Looking into Ham Radio Models? Check These:
3. Ulefone Armor 12 – Best Budget 5G Rugged Smartphone
PROS
Attractive pricing
the Tough build with MIL-STD-810G certification
Dustproof and waterproof with IP68/IP69K rating
Decent camera
Good display
Loud speakers
It's emergency reverse charging capable.
CONS
5G is limited to T-Mobile and Sprint
Battery life could be better
Significant bloatware.
Supporting 5G, coming in at an attractive price, and showing all kinds of rugged goodness makes Ulefone Armor 12 our pick for the budget category.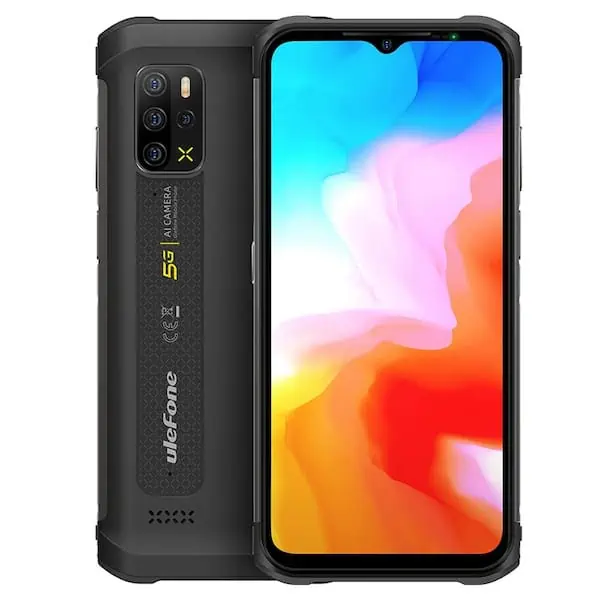 The rugged credentials of this phone become clear at first look. There's the thick and tough body, rounded corners with added protection, and some protective touches at the back. But the real feather in its rugged cap is the certification for Mil-STD-810G.
This standard means that the phone is capable of working in harsh conditions, which include temperature variations, vibrations, shock, and more.
Ulefone also says that the phone can handle a drop from 1.2 meters height. Although, as things are, I'd say it's more likely to survive that drop, especially when compared to other phones. How a phone fairs after a drop and impact can be quite unpredictable. Yet, the phone's rating and its tough build inspire some confidence.
Another notable and relevant aspect is waterproofing. Ulefone Armor 12 is rated IP68/IP69K. That means it can survive being submerged in water depth up to 1.5 meters for 30 minutes and can handle some water pressure. The ratings also signify that the phone is dust proof.
Other notable specs for the phone include a MediaTek Dimensity 700 processor, 8 GB RAM, 128 GB internal storage, and support for external storage through microSD cards up to 1TB.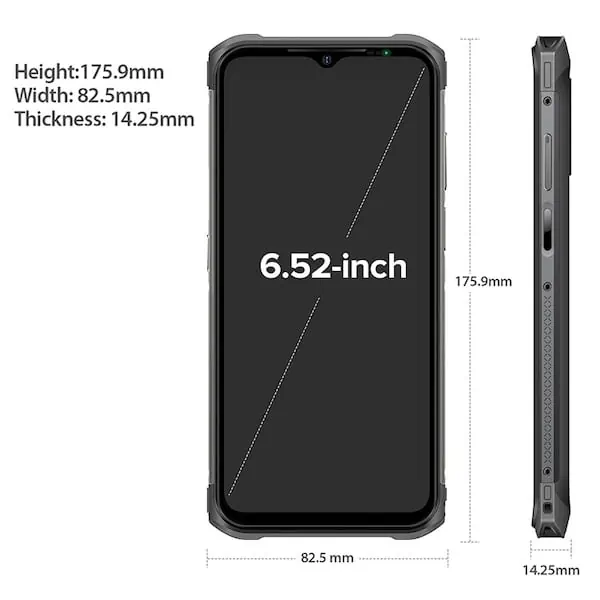 The 5180 mAh battery has some interesting features as well, OTG reverse charging, 18W fast charging, and 15W wireless charging.
The phone sports a 16 MP selfie camera. There are four cameras in the back, including a 48MP main camera, 8 MP wide-angle camera, 2MP macro camera, and a 2MP depth sensor. It has dual speakers, supports dual sims, offers headset-free FM radio, NFC+Google Play, fingerprint and face unlock, and GPS.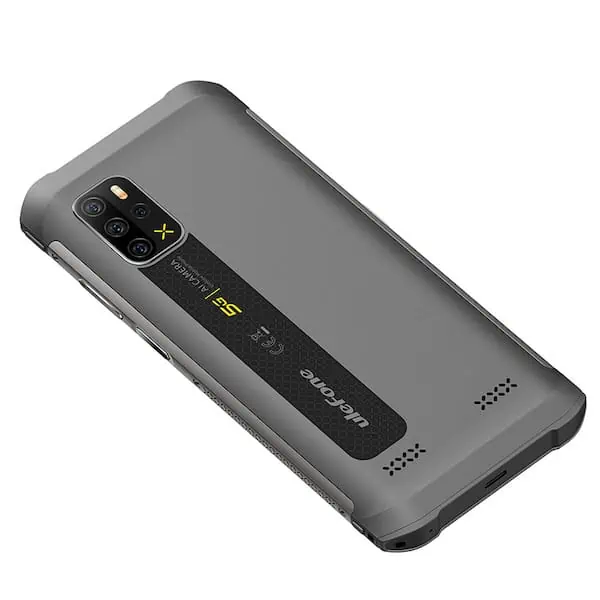 Overall, this is a feature-rich phone and the display is pretty good too. However, though the waterdrop screen looks nice, it's far from being in the category of tough displays. There is a good chance of scratches or damage should the display take the hit during a fall.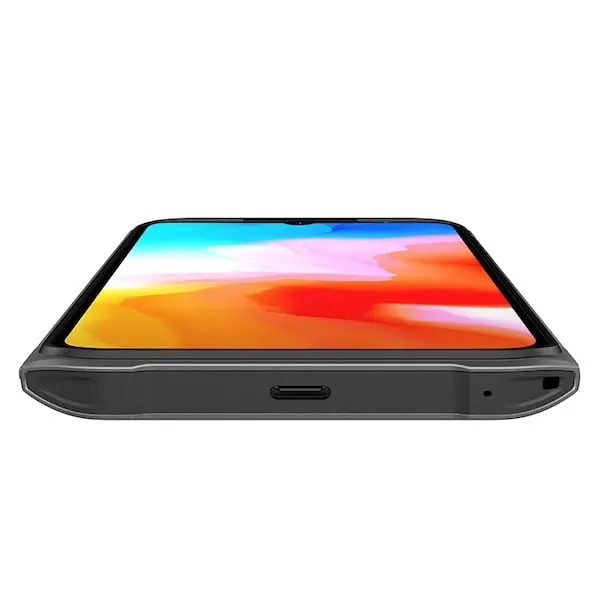 It has 5G capabilities and works seamlessly. However, these capabilities are limited to some bands. As a result, though the phone is unlocked for all carriers, its 5G capabilities work only with T-Mobile and Sprint. This limitation to usage of 5G can be seen as something of a negative for this phone.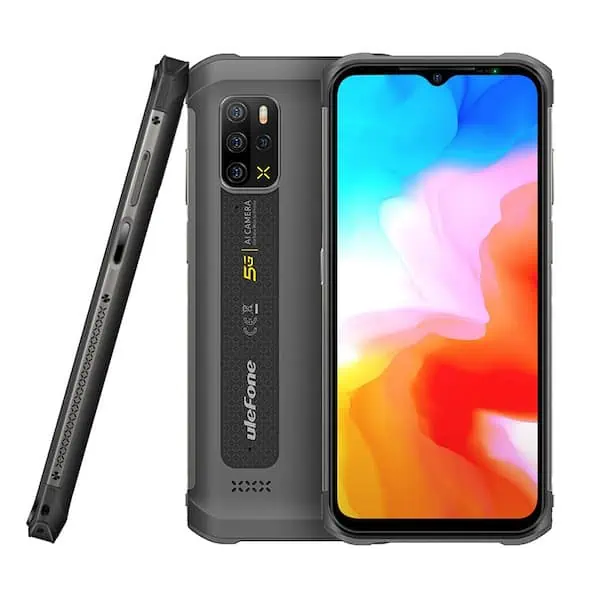 Overall, though it's a bit rough around the features and interface, Ulefone Armor 12 is a good budget phone if you want something rugged and capable of 5G networks. Although there are limitations to its 5G use, it remains one of the better-performing budget phones in this category.
Our Ratings
Features: 8/10
Build Quality: 8/10
Reliability: 8/10
Value for Money: 9/10
Overall Rating: 8/10
Want to Have More Rugged Gear for Your Outdoor Adventures? Check This: Best Waterproof Ham Radios
Frequently Asked Questions (FAQs)
What makes a smartphone "rugged"?
A rugged smartphone is specifically designed to withstand tough conditions. This means it's resistant to elements like water, dust, shock, and extreme temperatures. Often, they come with reinforced frames and toughened screens.
Are 5G rugged smartphones bulkier than regular ones?
While rugged smartphones may be slightly bulkier due to their reinforced design and protective features, many modern 5G rugged smartphones are surprisingly sleek and not much heavier than their non-rugged counterparts.
How does 5G connectivity impact battery life in rugged smartphones?
5G technology can consume more power than 4G. However, most 5G rugged smartphones are equipped with larger batteries to ensure they maintain good battery life despite the added 5G consumption.
Are all rugged smartphones waterproof?
Most rugged smartphones offer a high degree of water resistance, but it's essential to check the IP rating. An IP68 rating, for example, means the phone can be submerged in water up to 1.5 meters for 30 minutes without damage.
Do rugged smartphones have good camera quality?
Yes, many 5G rugged smartphones come with high-quality cameras. The rugged aspect primarily focuses on build and durability, not compromising other features like camera quality.
Is it worth investing in a 5G rugged smartphone if I'm not an outdoor enthusiast?
Absolutely. While they're designed for tough conditions, their durability can be beneficial for anyone prone to drops, spills, or those who want a longer-lasting device.
Can I use regular phone cases with a rugged smartphone?
While rugged phones are designed to withstand impacts without a case, you can still use regular cases for added protection or aesthetics. However, ensure the case fits the unique design of the rugged smartphone.
Do these phones come with standard smartphone features like fingerprint sensors and facial recognition?
Yes, many 5G rugged smartphones incorporate contemporary features, including fingerprint sensors, facial recognition, and even wireless charging.
Are 5G rugged smartphones more expensive than regular 5G phones?
The price varies. While some rugged smartphones might be pricier due to their added durability features, many are competitively priced and offer excellent value for money.
How do I know if a 5G rugged smartphone is genuinely durable?
Always check for certifications like MIL-STD-810G (military standards) or specific IP ratings, which indicate resistance levels. Additionally, genuine user reviews and expert recommendations, like those on WhollyOutdoor, can provide insights into real-world durability.